By Sam Botrus, Linga Reporter
The Christian associations and organizations in the Christian quarter of the Old City of Jerusalem condemned the coward act committed by a group of young Arab men from the neighboring quarters in attacking the houses of the neighborhood and different stores as well as the Euthopian church. The gate of the church was damaged and the cross stoned and consequently broken.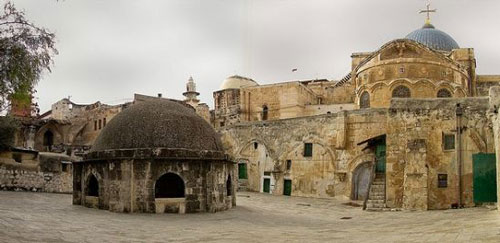 ​
A statement was distributed by the youth of the Christian Quarter and the Association of Developing the Christian Quarter and "Seeds for a Better Life" Centre. It stated that the names of the attackers are known and their photos taken as well whilst they were committing this barbarian act.
The statement also mentioned that this is the third attack within the past two years, however it has been characterized by the ISIS style this time, where unusual slogans have been heard such as: "Worshippers of the wooden cross".
The Christians have asserted that they are proud of the cross of Christ and quoted Saint Paul's words: For the message of the cross is foolishness to those who are perishing, but to us who are being saved it is the power of God. (1 Corinthians 1: 18)
Christians have commented that the act is unacceptable on every aspect and a very dangerous one as it affects the National Palestinian unity which everyone is calling for. Such acts can only be explained in the sense that they serve certain agenda of extremists whose goal is to demolish good relationships formerly considered as brotherly.
The statement was published in Jerusalem on the fifth of May 2015, and it concluded that the community of the Christian quarter is facing internal pressures and will not accept any form of truce bearing in consideration this shameful act; whoever threatens the national unity should be punished.